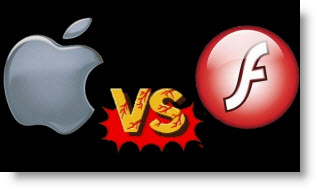 Apples Direktør og grundlægger Steve Jobs har skrevet en temmelig lang forklaring på, hvorfor Apple ikke understøtter Flash i iPhone, iPod touch og iPad. Forklaringen "Thoughts on Flash" kan læses her.
Grunde til ikke at understøtte Flash
Steve Jobs understreger at Adobe og Apple har samarbejdet næsten fra da begge firmaer blev grundlagt og at de stadig har et  omfattende samarbejde omkring software. Apple-brugere køber omkring halvdelen af Adobes programmer.
Han fremfører i sin forklaring følgende punkter
Adobes Flash-standard er ikke åben.
Flash er ikke nødvendigt for at få "the full web".
Flash er årsagen til nedbrud og nedsætter mobilers performance.
Flash nedsætter batteritiden. Video på iPhone ville kunne ses i 5 timer med flash, mens det kan ses i 10 uden.
Flash er ikke lavet til touch, da det ofte benytter mouse-over.
Adobes platformsoverskridende udviklingsværktøjer forhindrer innovation da det er laveste fællesnævner der bremser softwareudviklingen.
Steve Jobs konklusion
Han afslutter sit indlæg med følgende:
Flash was created during the PC era – for PCs and mice. Flash is a successful business for Adobe, and we can understand why they want to push it beyond PCs. But the mobile era is about low power devices, touch interfaces and open web standards – all areas where Flash falls short.
The avalanche of media outlets offering their content for Apple's mobile devices demonstrates that Flash is no longer necessary to watch video or consume any kind of web content. And the 200,000 apps on Apple's App Store proves that Flash isn't necessary for tens of thousands of developers to create graphically rich applications, including games.
New open standards created in the mobile era, such as HTML5, will win on mobile devices (and PCs too). Perhaps Adobe should focus more on creating great HTML5 tools for the future, and less on criticizing Apple for leaving the past behind.
Jeg synes at Steve Jobs argumentation lyder ret overbevisende. Jeg har dog ikke teknisk indsigt til at vurdere hans teksniske argumenter. Men jeg tror faktisk, at Apple kan gå hen og skubbe til udviklingen og derved nedsætte det omfang Flash bruges i.