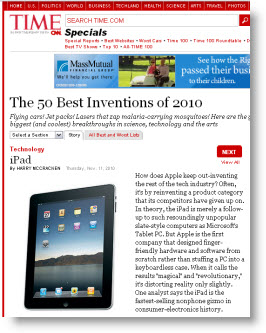 Nyhedsmagasinet TIME laver hvert år en masse toplister, bl.a. over de mest indflydelsesrige personer. Blandt disse toplister er der en der hedder de bedste 50 opfindelser. Og blandt disse opfindelser er iPad at finde i kategorien teknologi.
Begrundelsen for at iPad er udnævnt til de bedste opfindelser er:
How does Apple keep out-inventing the rest of the tech industry? Often, it's by reinventing a product category that its competitors have given up on. In theory, the iPad is merely a follow-up to such resoundingly unpopular slate-style computers as Microsoft's Tablet PC. But Apple is the first company that designed finger-friendly hardware and software from scratch rather than stuffing a PC into a keyboardless case. When it calls the results "magical" and "revolutionary," it's distorting reality only slightly. One analyst says the iPad is the fastest-selling nonphone gizmo in consumer-electronics history.
Jeg synes faktisk det er lidt sjov at tænke på, at iPad ikke en gang er et år gammel. Måske er det fordi jeg skriver denne blog eller fordi den har været hypet så længe, at det føles som en evighed siden den blev præsenteret.