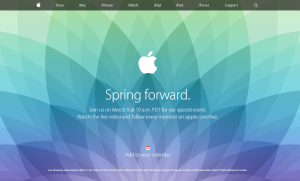 Mandag den 9. marts afholder Apple en keynote kl. 19 dansk tid. Den kan overværes live på apple.com/live og på Apple-tv.
Hvad er det mon der præsenteres? Nogle gætter på følgende:
Nærmere præsentation af Apple Watch
iPad Pro med en skærm på 12″
Macbook med 12″ skærm
I øvrigt kan du følge med på mit nye site wearables.dk hvis du interesserer dig for Apple Watch.
By the way, så har jeg også lavet to andre sites. Det ene hedder Bolig.link og er en slags linkguide hvor du kan få et overblik hvis du søger bolig eller skal sælge eller udleje. Forskellen på mange andre boligsites er, at denne er upatisk og neutral. Det er kun de mest nyttige og brugbare links du vil finde. I en helt anden boldgade er det andet site jeg har lavet. Det hedder Elections.dk, handler om valg – specielt folketingsvalg. Forhåbentlig kan det være til nytte op til den kommende valgkamp.